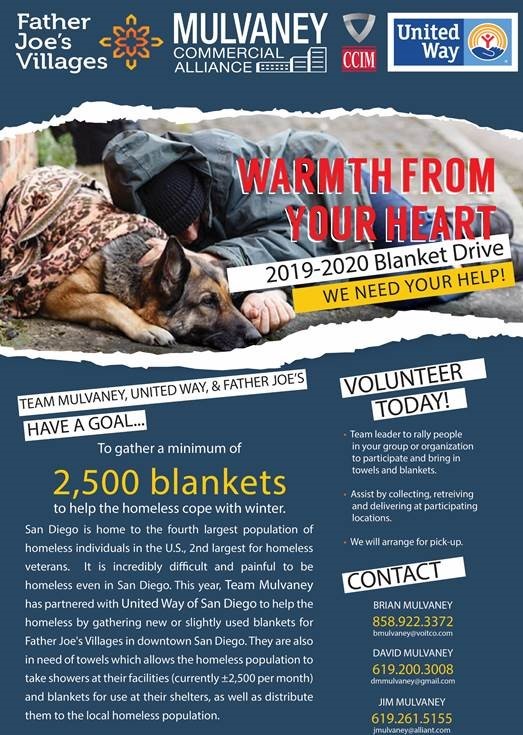 United Way is excited to partner with Team Mulvaney (Brian, David and Jim Jr.) to promote the 2019-2020 "Warm Your Heart" blanket drive for Father Joe's Villages and the homeless population in San Diego.
This is Team Mulvaney's third year of hosting a blanket drive, and last year they were able to collect over 2,500 blankets and over 500 towels for those in need. We hope to beat those numbers this year.
While it does not solve the problem, blankets and towels do help people get through the tough time of the year in San Diego and allows Father Joe's Villages to distribute blankets in their Day Center, as well as begin the process of getting individuals off of the streets, and into permanent housing.
Help us help the homeless, and those in desperate need of assistance. We will be collecting blankets throughout the month of February 2020.
You can call (858) 922-3372 or email bmulvaney@voitco.com for additional information, discuss picking up donations, or to get on the list as a team captain and volunteer to help collect blankets and towels. We are happy to pick up the items you collect at your office, home, or other location. You can also donate by clicking one of the two links below, and purchasing new blankets to be delivered to Father Joe's Villages' Warehouse. NorthEast Fleece offers a 25% discount.
Links for Blankets to Buy and Donate to Father Joe's Villages:

DONATE FROM AMAZON

DONATE FROM NORTHEAST FLEECE (Use "4donate" discount code for 25% off!)
Please use this shipping address:
Team Mulvaney – Blanket Drive
3350 E Street San Diego, CA 92102 (619) 223-8500
If you make a contribution, please notify us so we can credit you, and THANK YOU.