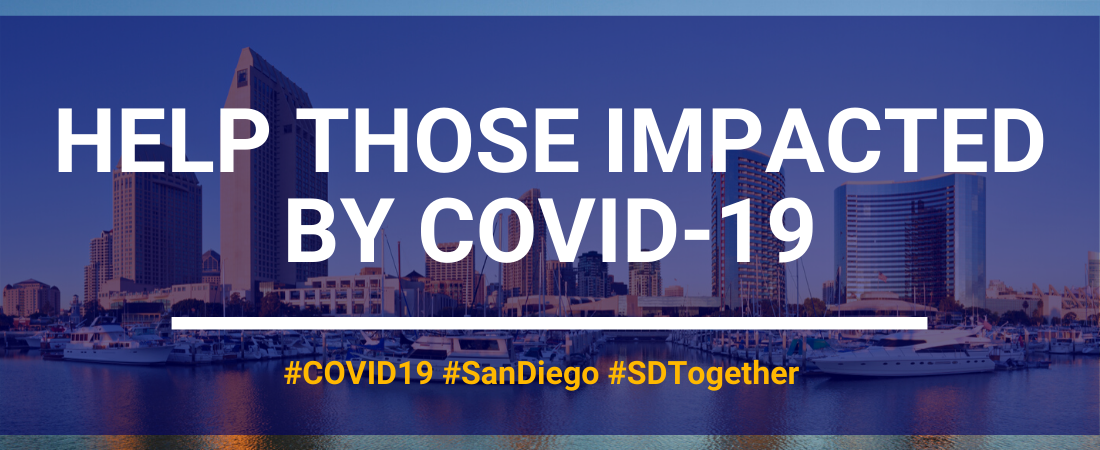 Looking for ways to get involved and help families affected by the Coronavirus pandemic? UWSD is gathering information daily on how agencies and organizations across our community are responding to this crisis. Many of our partners have an increased need for donations of time, talent, and treasure.
Would you like to volunteer? Click HERE now to browse local opportunities or email volunteeropps@uwsd.org. You can also visit Points of Light for a comprehensive list of virtual volunteer opportunities with organizations across the country.
Below is a list of organizations in need of in-kind donations:
- ElderHelp of San Diego seeks volunteers to help with delivering groceries and other essential items, and assisting seniors with transportation to medical appointments.
- Interfaith Community Services is collecting donations of food to replenish their food pantry, especially sack lunch items. They are also in need of hygiene items for shower and laundry facilities that the nonprofit offers to those in need. Donations can be dropped off anytime at the 550 W. Washington Ave. food pantry.
- Jewish Family Services is requesting donations of individually-packaged dinners to be dropped off at the Joan & Irwin Jacobs Campus. Schedule the night of your choice by calling (858) 637-3396.
- Leichtag Foundation has virtual volunteer opportunities: Can you call a local isolated senior or Holocaust survivor, or want to hear about other opportunities? Sign up to volunteer here.
- North County Lifeline is seeking in-kind donations (NEW food, hygiene items, clothes, baby items) which will be accepted at their locations in Vista and Oceanside.
- PATH is seeking in-kind donations of donations of socks, underwear and hygiene kits. Please contact sigrids@epath.org for details.
- The San Diego Food Bank is hosting a virtual food drive. Click the preceeding link to donate.
- The Somali Bantu Association of America is collecting donations of food, water, and medical supplies, and is looking for help with translation and non-medical transportation. Please email Faisa.M@SBAOA.org for more information.
- The Rady Children's Hospital Foundation, in partnership with the County of San Diego and the Rock Church, is collecting donations of Personal Protective Equipment (PPE). To donate PPE, contact a representative at DonateCOVID19@rchsd.org or 1-800-258-0007.
- Words Alive is asking for book donations from their Amazon Wishlist to help fuel book deliveries in neighborhoods, at food distribution sites, and at Free Little Libraries across San Diego.